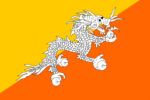 The land of Thunder Dragon…… a tiny and remote kingdom nestling in the Himalayas between its powerful neighbours, India and China, surrender by deep valleys, huge Himalayan mountain ranges, remarkable rivers, and stunning scenery. The highest peaks reach a height of around 7315m (24000 ft). Before introducing Buddhism during 7th century, the people lived by herding animals. It is an overwhelmingly agricultural country and cotton industry. Most of the people are Buddhists, current population is over 758000. There are 19 different dialects spoken in the country, but Dzongkha is their national language. English and Hindi the Indian language are widely spoken in the country.
To protect the environment and the culture the Bhutan Govt. does now allow the mass tourism into the country, hence the Bhutan was closed until 1970s for rest of the world. Bhutan follows Driglam Namzha to preserve its tradition and culture, so the government has implemented a law as how to eat, talk, what to wear etc...  Bhutan is extremely tourist friendly. The locals are kind and helpful.  Shopping is fun, with many bargains to be had…
We are happy to assist you and plan your trip to India and beyond…………….